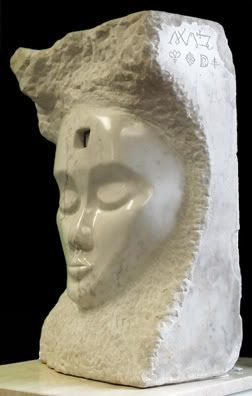 "Anja the Goddess of the Third Eye", Copyright © 1991-2008, Paul DiLillo, All Rights Reserved.
Was designed and carved by me, Paul DiLillo, in West Rutland, Vermont and Chicago, Illinois in 1991. It was carved from white Italian Carrara marble, H 22" x W 14" x L 11", weighs approximately 280 pounds and has a 3/4" x 1" video screen mounted in the forehead of the sculpture. The video plays graphic symbols of esoteric, pagan and world religious symbols. The symbols flash on the screen in a continuous loop, creating the effect of serenety and calm hypnosis.
Special thanks to :
Sidney Geist, Sculptor, Professor, Author; Vermont & New York City, Mr. Geist has since passed on in '05.
Kevin Kriegel, Robotics Engineer- Chicago
Steve Cejtin, VideoGlyphics, Hammer & Pixel, http://www.hammerandpixel.com/- Evanston, IL.
Virginio Ferrari, Sculptor, Professor- Chicago & Verona, Italy
Karl Geckler, Architect/Sculptor- Chicago
Bernadette D'Amore, Sculptor, Professor- Vermont & Carrara, Italy
The Carving Studio, West Rutland, Vermont
The Chicago Marble Carving Studio
Studio Nicoli, Carlo Nicoli- Carrara, Italy http://www.nicoli-sculptures.com/
For a link to Hammer & Pixel, click on the above headline, "Anja the Goddess of the Third Eye."
See the rest of my sculpture in "My Marble Sculpure" in this blog.